Write Wisdom Words Paint the Pure Land
2020-01-25
Write wisdom words
Paint the pure land

~~Dharma King painter creating with splashes of ink~~

The Dharma King travels in heaven and on earth
Transmitting Dharma from East to West and attaining enlightenment
It is poetry, painting, and essays
The beautiful insight is inspiring and lasting

Living Buddha Lian-sheng, honored as an ''extraordinary artist'', began painting at the age of 50. His paintings capture the essence of the Lingnan School, while his calligraphy perfectly integrates art, spirituality, and Buddhadharma, reaching a state of ''return to original nature''. In recent years, he has expanded his artistic vision by blending the color palette of western painting into his Chinese style paintings. With his ingenious and free-flowing brushwork, Living Buddha Lian-sheng has created his own unique artistic style.

In Taiwan, on Mar. 11, 2012, Living Buddha Lian-sheng was invited to publicly create the giant painting ''Full of Happiness.'' As of Jan. 13, 2019, when he painted ''Surplus Day after Day,'' Living Buddha Lian-sheng has created a total of eight giant paintings, each one approximately 500 cm X 200 cm in size. These works of art demonstrate the profound painting genius of the Dharma King.

This spring, Living Buddha Lian-sheng has been invited to paint the 9th in his series of giant paintings. The Dharma King will create this new painting before an audience at 8 PM on Feb. 5, 2020 at Seattle Ling Shen Ching Tze Temple. Everyone is welcome to come witness the Dharma King painting this new work of art. Seeing is better than just hearing about it!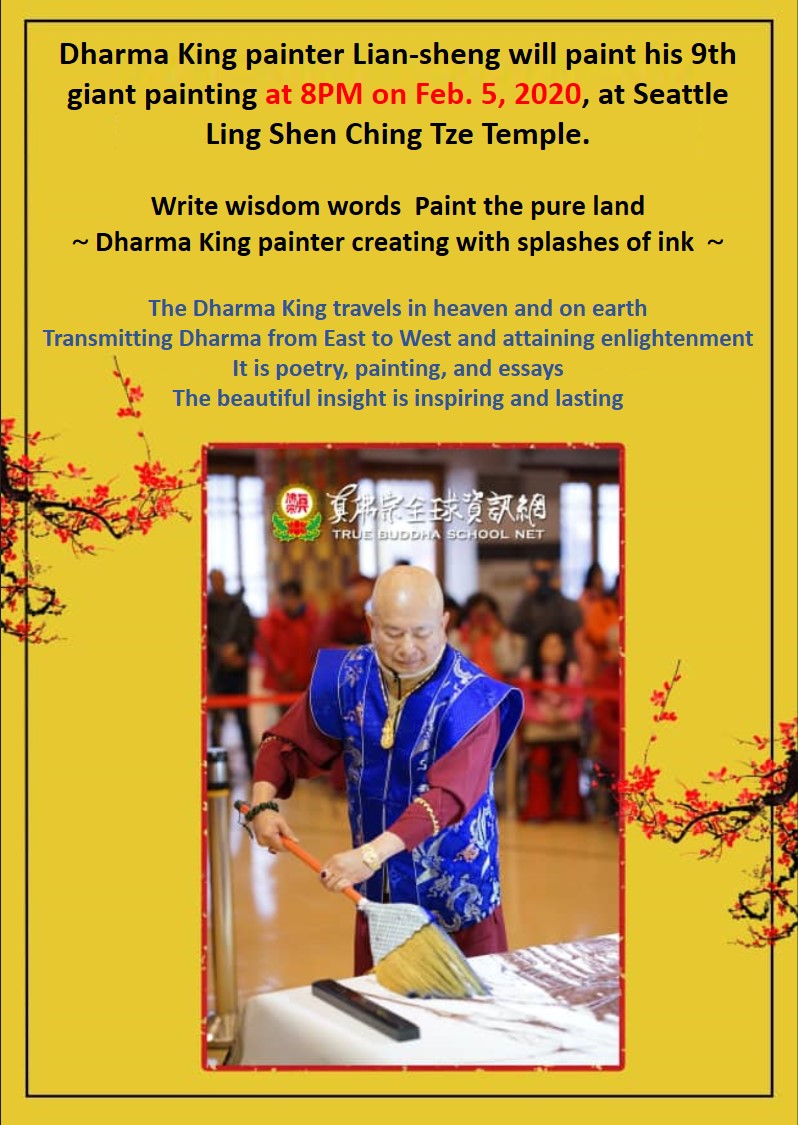 Translated by the True Buddha Translation Team
Translators: Henry Wolf
Editor: DJ Chang
Source: TBSN