The Lantern Festival Celebration
2020-01-21
The Lantern Festival is held on the 15th day of the 1st lunar month, the first full-moon night of a lunar year and a Spring-rejuvenation night. On the evening of the Lantern Festival, people celebrate the new Spring with folk customs. Each and every family lights colorful lanterns. They go outside to appreciate the moon, carry lanterns around, light fireworks, solve the lantern riddles, and eat glutinous rice dumplings to celebrate the new Spring.

On the evening of Friday, Feb. 7, 2020, the eve of the Lantern Festival, the True Buddha Foundation, Seattle Ling Shen Ching Tze Temple, and the True Buddha Wisdom Trove Cultural and Educational Foundation will hold a ''Lantern Festival Celebration Fun Puzzle Game Contest'' where everyone can reminisce about their childhood and carry lanterns around with Grandmaster and Shimu to appreciate the moon together. Everyone will tell stories in rhythm to illustrate the treasures of the True Buddha School, win a copy of The Divine Book, unveil Hidden Dharma Protectors, depict Buddhadharma Talk, arrange Words of Wisdom, attain the Dharma Path to Ultimate Attainment, and finally, whether to have Sacred Encounters with Deities. Many exciting competitions are waiting for you to join in to celebrate the Lantern Festival together.

In addition to prizes awarded to winners, all participants will receive a lantern. Since the supply of lanterns is limited, everyone please draw lots for the event admission as soon as possible after the night's dinner.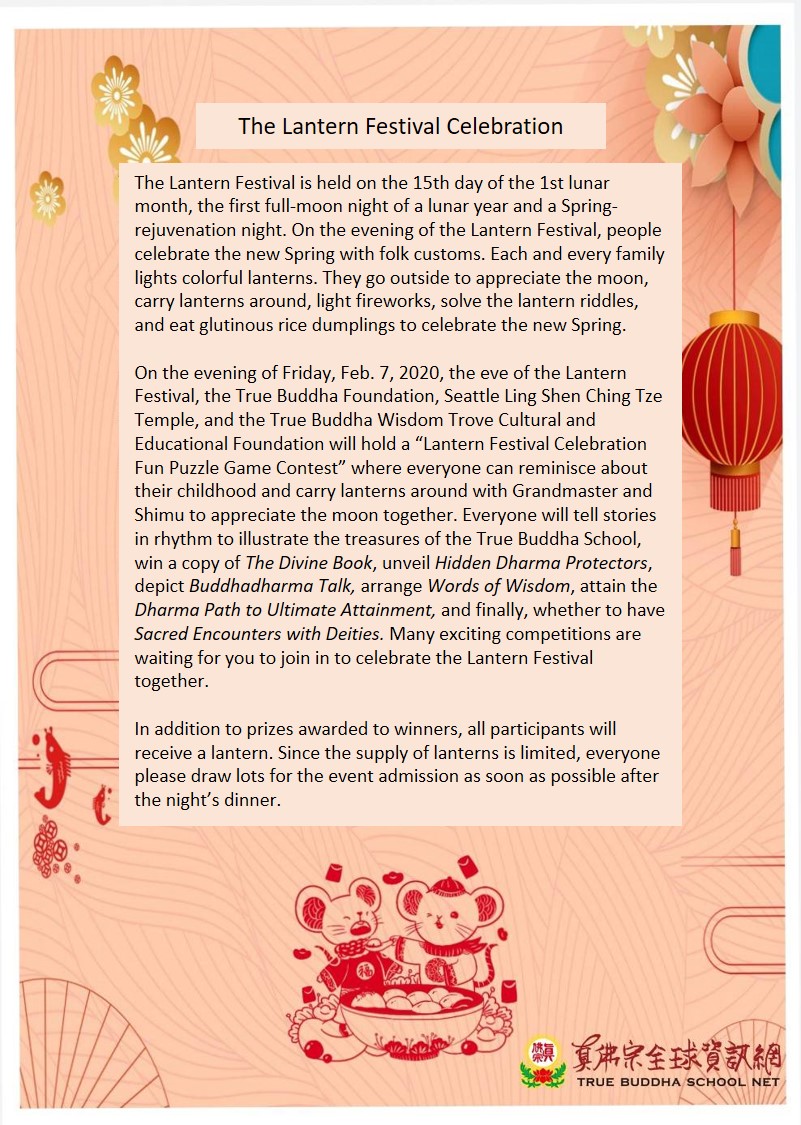 Translated by the True Buddha Translation Team
Translator: Henry Wolf
Editor: DJ Chang
Source: TBF