Feb. 1, 2020, Grand Gengzi Year Spring Avalokitesvara Homa Ceremony
2019-12-06

The Grand Gengzi Year Spring Avalokitesvara Homa Ceremony will be held on February 1, 2020 at the True Buddha School Rainbow Temple in Seattle, U.S.A. Rainbow Temple respectfully requests Root Lineage Guru Living Buddha Lian-sheng to preside over the grand ceremony and debut the transmission of Yeshe Tsogyal Practice.

Avalokitesvara is in actual fact an ancient buddha by the name of the Tathagata Who Knows the True Dharma. With great compassion, the ancient buddha re-enters Saha world and manifests himself as a bodhisattva for the sake of saving sentient beings. If sentient beings wholeheartedly recite the name of Avalokitesvara during the encounter of hardships, Avalokitesvara will promptly follow the sound, respond and relieve sentient beings from suffering.

This upcoming 2020 Spring Avalokitesvara Homa Ceremony prays for the attendees and those who have registered for the ceremony so that their disasters will be eradicated, fortunes enhanced, lifespan extended, karmic hindrances removed, be safe and healthy and have a perfect family. The ceremony will benefit sentient beings in both the bardo and human world.

The ceremony will be sublime and unsurpassed as it will be presided by the Root Lineage Guru of the True Buddha School. Buddhas and bodhisattvas of the ten directions will also radiate bright buddha brilliance at the ceremony, grant wishes, and bestow blessings to everyone to make everything auspicious and perfect!

The great Yeshe Tsogyal was the first female practitioner in the history of Vajrayana Buddhism to gain enlightenment. Vajrayana Buddhism emphasizes the importance of lineage. As a follower, Buddha Mother Yeshe Tsogyal was taught almost every single Buddhist practice that was transmitted by Guru Padmasambhava in Tibet. After putting spiritual cultivation into practice, Yeshe Tsogyal attained the highest level of accomplishment in Buddhism.

Padmasambhava transmitted the Dharma of Great Perfection [Dzogchen] (the ninth stage of the nine vehicles of the Nyingma School) to Yeshe Tsogyal. Padmasambhava transmitted the most important key cultivation formula, known as the core of the heart of Great Perfection Dharma, the Nyingtik, to Yeshe Tsogyal. Yeshe Tsogyal was therefore a Tibetan lineage holder of Great Perfection Dharma.

Ceremony details:
Time & Date: Saturday, 2:00 PM, February 1, 2020 ( 8th of the first lunar month)
Venue: Rainbow Temple, 14310 476th Ave SE, North Bend, WA 98045 USA
Kindly register at the website of Rainbow Temple: http://tbs-rainbow.org/報名與供養/

We welcome everyone to register and attend the ceremony so that all will benefit from this Dharma event, bathe in the buddha's brilliance and receive Grandmaster's debut transmission and empowerment of the Yeshe Tsogyal Practice.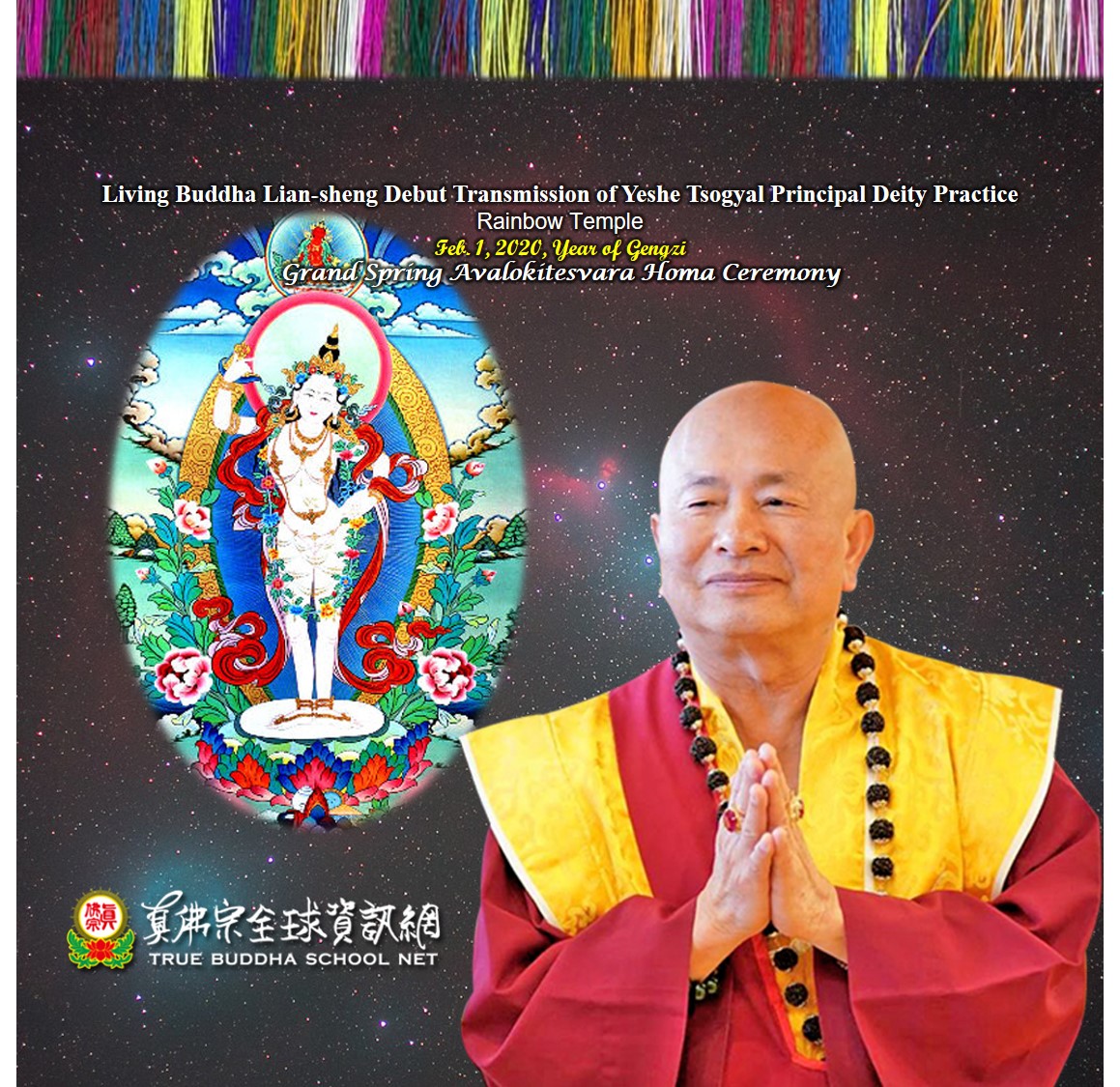 Translated by True Buddha Translation Team
Translator: Lynn Ang
Editors: Angeline Oh and DJ Chang
Source: Rainbow Temple