Guest Prefect Etiquette Workshop
2019-10-16
Good news! True Buddha Foundation Will Present a ''Guest Prefect Etiquette Workshop'' at Taiwan Lei Tsang Temple



Welcome to experience this workshop together! A complete guest prefect is YOU!

Registration online: https://forms.gle/AgrH1zfQ1cvuun9z5

【Education Workshop Announcement # 20190008: A Comprehensive Guest Prefect Etiquette Workshop】

Root Guru Living Buddha Lian-sheng once discoursed that monastic guest prefects are Dharma boats ferrying sentient beings to the other shore.

Monastic guest prefects and volunteer guest prefects play an important part in all True Buddha School (TBS) activities! The True Buddha Foundation (TBF) has specially organized a two-day Guest Prefect Etiquette Workshop to be held at Taiwan Lei Tsang Temple on Nov. 30 (Sat.) and Dec. 1 (Sun.), 2019. Fang Xinzhi (方信智), an expert in realizing spiritual potential, will be the primary lecturer.

TBF sincerely invites all levels of TBS Dharma propagating personnel and guest perfect personnel of all TBS cultivation venues and activities to seize this opportunity and enthusiastically take part in this workshop. By becoming cultivated and complete guest prefects, participants will live up to the expectations of Grandmaster.

Registration starts today!

Date: Nov. 30 (Sat.) and Dec. 1 (Sun.), 2019 (two days)
Time: 8:30am to 5:30pm Two days, total 14 lecture hours.
Location: Taiwan Lei Tsang Temple
Address:
No. 100, Lian-sheng Lane
Shanjiao Village, Tsao-Tun Township
Nantou County, Taiwan

Registration online (or scan the following QR code): https://forms.gle/AgrH1zfQ1cvuun9z5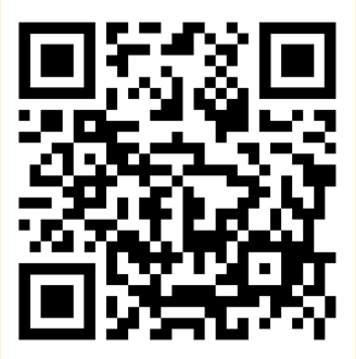 Registration direct phone # (Taiwan): 886-49-2312992 Ext.364 Dharma Sister Liu
Registration fax # (Taiwan): 886-49-2350801
For workshop-related information, please contact Rev Liantong(蓮桶) by email at: tbfeduworkshop@gmail.com
******************************
Accomodations: (Will provide three regular or vegetarian meals)
Non-local participants are welcome to stay overnight at Taiwan Lei Tsang Temple from Wednesday 11/27/2019 to Wednesday 12/04/2019.

Application for overnight stay:
By phone: Contact Rev. Lianyun(蓮雲) at +886 4 9231 2992 ext. 248
In person: contact Contact Rev. Lianyun at Taiwan Lei Tsang Temple 4th floor on the dragon site
Online: select one of the Yes options under item 12. R&B from the online registration link above.
Note:
Although TBF will reserve overnight stay at the temple per online registration, applicants must still register the stay on site.

On-site registration for overnight stay at Taiwan Lei Tsang Temple:
Please contact Rev. Lianyun at her office located on the 4th floor of the dragon side for on-site overnight stay registration.
The information required for registration includes:
Starting and ending dates of the stay
Sleeping bag requirement:

Self prepared
Provided by temple: applicants will prepay sleeping bag cleaning fee of NT 150 when registering (not required for masters and ordained sangha)

Location of the room and bed
Contact Rev. Lianyun for all other questions
Workshop Organizer:
True Buddha Foundation

Workshop Co-organizer:
True Buddha School Vajrayana Association of R.O.C. & Taiwan Lei Tsang Temple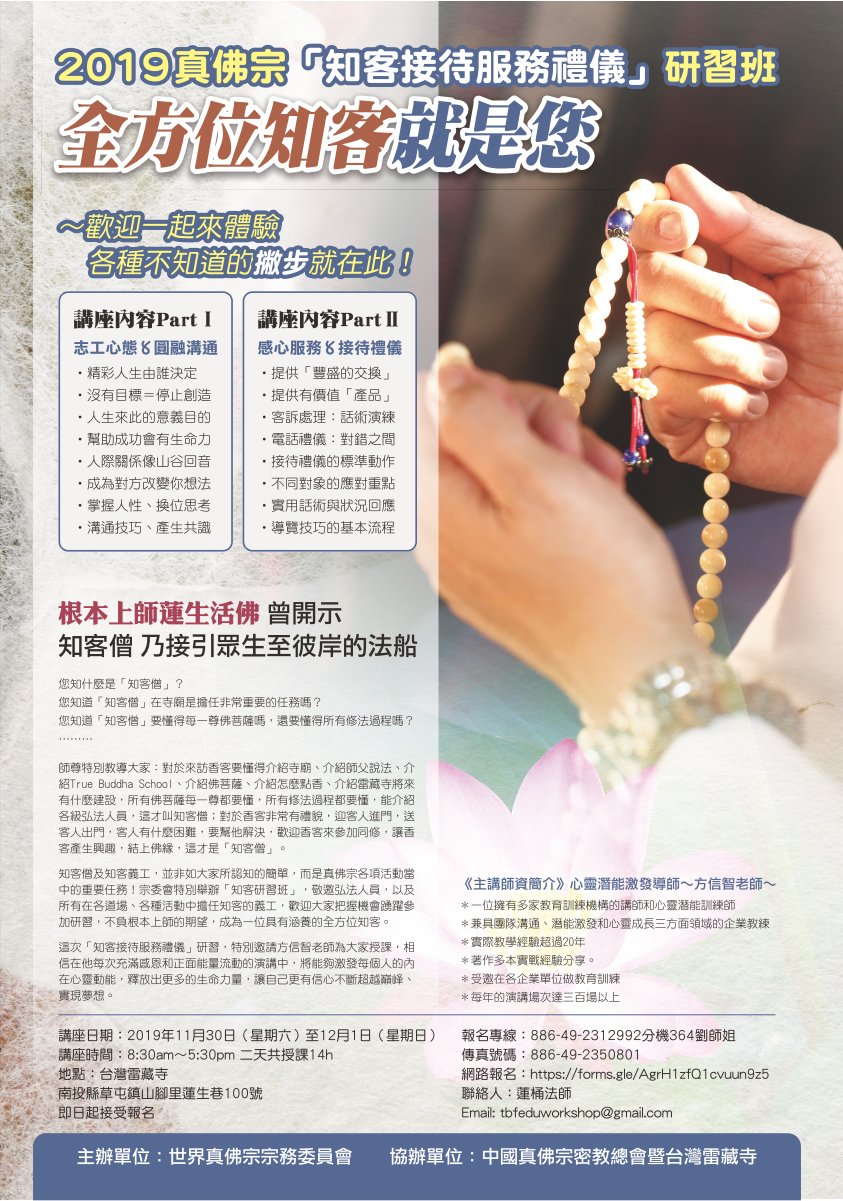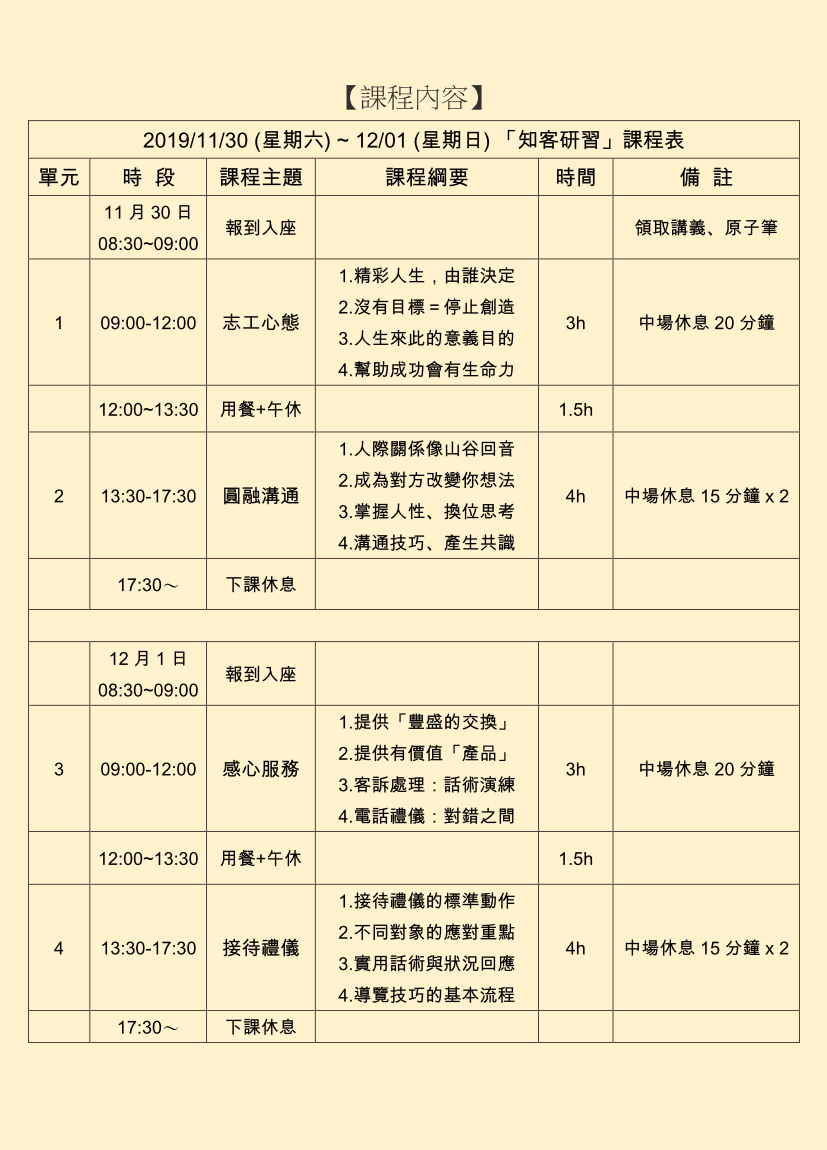 Translated by True Buddha Translation Team
Translator: Phyllis Feng
Editors: Henry Wolf and DJ Chang
Source: TBF