Epidemic Prevention Measures For Those Attending Dharma Ceremonies
2020-03-13
《Rainbow Temple Notification》
Epidemic Prevention Measures For Those Attending Dharma Ceremonies



With a heart of utmost compassion, HH Root Lineage Guru Living Buddha Lian-sheng has vowed to never abandon a single sentient being. During this critical time when people around the world are being harmed by the COVID-19 epidemic, HH Living Buddha Lian-sheng also feels the suffering of sentient beings. With a fearless heart of compassion, he will tirelessly conduct homa ceremonies, eradicate the collective karma of sentient beings with mighty buddha power, and to the greatest extent possible, reduce the harm of the epidemic.

In compliance with a public notification by local government authorities on March 3, 2020, and to best ensure public health and safety, Rainbow Temple is adjusting the manner in which Dharma ceremonies are held. As the COVID-19 epidemic is exploding globally at this time, it's extremely important that everyone join hands and work together with hearts unified to get through this epidemic crisis.

We urge everyone to comply with all relevant notifications made by Public Health - Seattle & King County, as well as the following measures adopted by Rainbow Temple:
At the entrance, Rainbow Temple will register the count of attendees and administer body temperature screening to all participants. Anyone found to have an abnormal temperature reading or who exhibits COVID-19 symptoms will be prohibited from entering the temple grounds.
We are asking those who are weak, already ill, or of advanced age, to refrain from participating in Dharma ceremonies. There is no boundary to the blessings given by the Grandmaster. Those who have registered for Dharma ceremonies and those participating in Dharma ceremonies via the internet can also receive the blessings of Grandmaster's buddha light.
Ceremony participants are asked to bring their own face masks and hand sanitizer, and should make every effort to keep a safe distance from others to maintain interpersonal safety.
No persons other than those audio and visual personnel who have been designated and authorized by Rainbow Temple and Seattle Ling Shen Ching Tze Temple are permitted to take photographs or videos during ceremonies. Those who are unable to comply with this rule please do not enter temple grounds.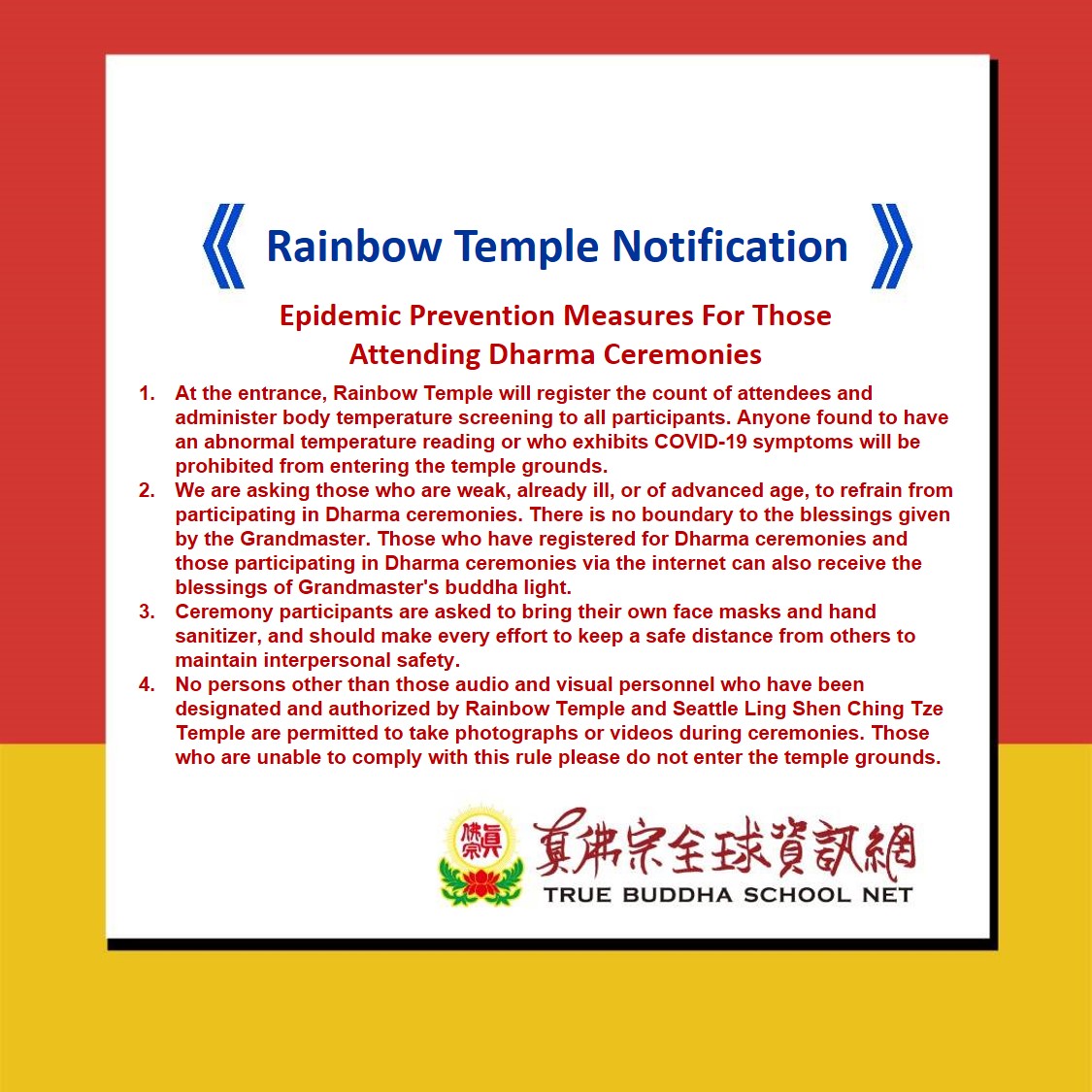 Translated by the True Buddha Translation Team
Translator: Henry Wolf
Editor: DJ Chang
Source: Rainbow Temple